Cherry Beach in Toronto
Cherry Beach at Clarke Park is a lakeside beach located just east of the downtown Toronto core at the foot of Cherry Street. It is on Toronto's outer harbour.
Beach is often rated as the cleanest and warmest beach in Toronto.
This is not a traditional park despite its name. It is more rugged than other beaches, with green areas and rocky shores instead of manicured picnic lawns and fountains and gardens, but is one of the better spots to try water sports like windsurfing and to go out with dogs.
There's limited lawn space at the northern end with some outdoor grills and picnic tables.
This is a famous beach so Sundays in the summer can get very crowded. It is mostly sandy on the beach, but there are some rocks in the water so swim shoes might be a good option if you go for a swim.
It will be a long walk if you're in downtown. But there is a bus service (the 72B by Toronto Transit Commission TTC) from the center that drops you off right at Cherry Beach. The bus goes there from mid-May until Labour Day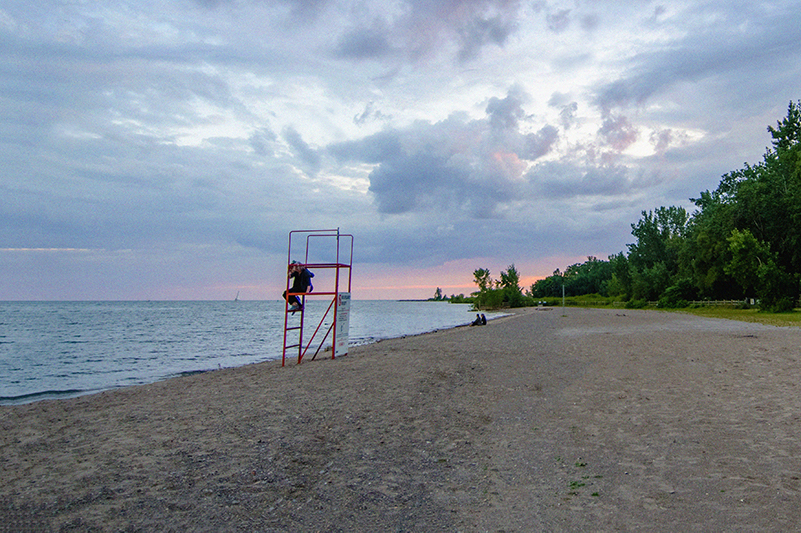 If you are driving, there is plenty of free parking space in two lots.
There is a nice bike trail to the beach, so if you have a bike, you can use that. There are places to lock your bike too.
There is also a food kiosk in case you get hungry. Once you're at Cherry Beach, you can go swimming, stand up paddling, windsurfing, hiking or you can just sit and relax on the beach and enjoy the sun.